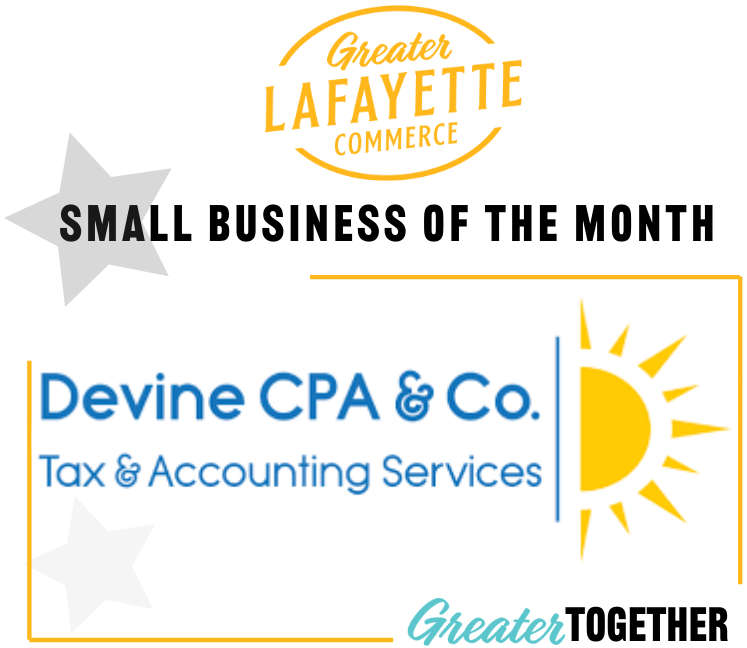 *The following article was written by Greater Lafayette Commerce.
There are Certified Public Accountants and then there's Devine CPA & Co.
"Our goal is to build long-term relationships with our clients," owner Christina Devine says. "Our organization is built on the foundation of trust and kindness. Our employees and our clients should always feel they are our priority and should always be treated with the utmost respect."
In these anything but "typical" times the world is living under today, Devine CPA is there to help small businesses whose existence was, and still is, threatened by the COVID-19 pandemic.
The federal government made funds available to help small businesses make payrolls and keep its doors open. Devine CPA did the hard work to prepare more than 115 applications that secured more than $5 million from Paycheck Protection Program (PPP), Economic Injury Disaster Loans (EIDL), Indiana Restart Grants, community block grants and Restaurant Revitalization Fund for more than 70 local small business clients from the spring of 2020 to current.
"The majority of our clients received somewhere between $50,000 and $70,000 in PPP funds each round," Devine says. "They have less than 20 employees, so they are truly small, local businesses that had to have these funds to make it through the closures of 2020."
Well aware of the financial struggles many of its clients were enduring, Devine says her team offered services at discounted rates. Devine CPA & Co. also offered small payment plans or payment furloughs to ensure their clients could stay in business.
Anna Roehl, the lead staff accountant at Devine CPA, was essential in helping Christina gather all the necessary information and apply for the grant funding for their clients. Anna has been with the firm since July of 2019, and she serves as the main contact for many monthly small business clients.
Community service
While it may have been a natural business decision to keep Greater Lafayette's small businesses alive, Devine is no stranger to making her community a better place to live.
"As a native to Lafayette, I have always had a passion for philanthropy and giving back to the community," Devine says. After a term on the board for Natalie's Second Chance Dog Shelter from 2012 to 2020, Devine is currently serving as Treasurer for NAMI West Central Indiana. The National Alliance on Mental Illness (NAMI) works actively to improve the lives of individuals diagnosed with serious mental illness and their family members.
"Mental health in our schools and our community is so important, and the work that NAMI West Central is able to provide to the Tippecanoe and surrounding counties is amazing," Devine says. "My favorite part of what they do is "Ending the Silence" in our schools. This program was designed to help students look for warning signs in their friends, how to reach out for help, and healthy coping mechanisms for stress and anxiety."
Christina also encourages her team to volunteer and serve on boards. As a team, they have participated in Indiana CPA Day of Service each year, and also participates in the Habitat for Humanity Women's Build.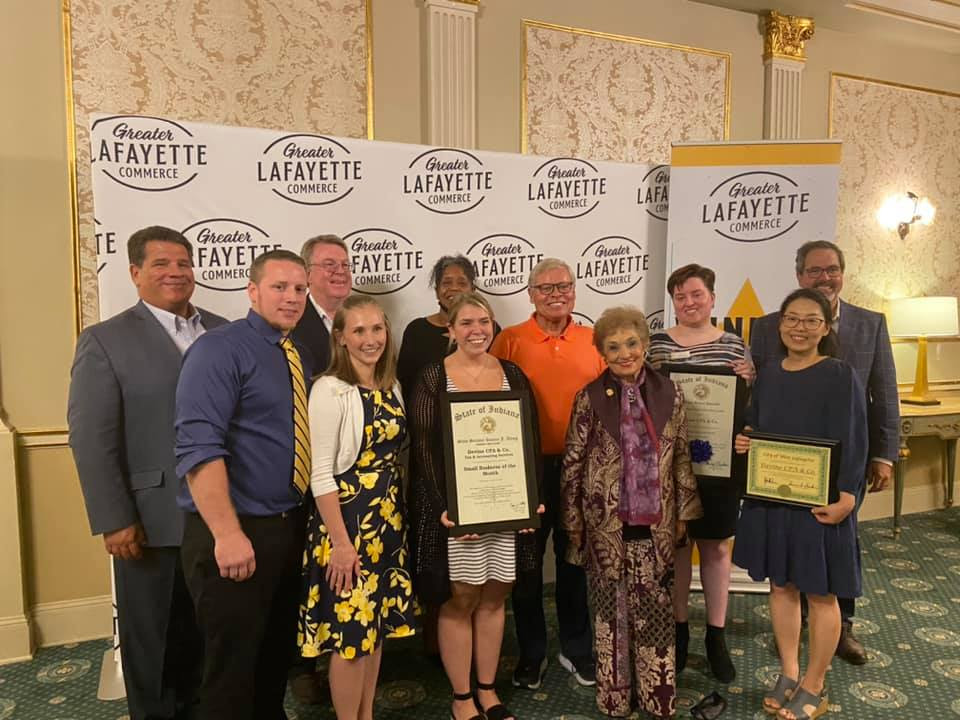 Their mission
Devine believes her involvement with NAMI has made her an even better CPA and business owner.
"I am able to easily empathize with our new business clients with a lot of anxiety and help calm their nerves and build their confidence to help them better succeed," Devine says.
"I strive to teach our staff to have this same mentality with both our individual and business clients. We know people can have stress when it comes to financials, taxes, and the IRS in general. We truly care about our clients, look out for their best interest, and we want to support them and provide them with the tools and advice to help them succeed."
In the three years Devine has operated Devine CPA & Co., her mission has revolved around building trust and relationships. Here's a sample of what Devine CPA & Co.'s clients have said on Google reviews, all of which are five stars:
"If you are looking for a CPA that is responsive, accurate, and knowledgeable not to mention looking out for your best interest look no further!" – Mary McGrew
"We have worked with Christina a little over two years now. I cannot tell you how wonderful it is to have a CPA that really cares about the small businesses in her community. Not only is Christina honest and reliable but she goes above and beyond for her clients. Christina, we appreciate all of the help you have offered us and we look forward to continuing to grow with you!" – Angel Fleck, owner of Get Green Lawn Care.
Christina is one of the best things that has happened to us since opening our Gourmet Popcorn Business. She keeps our financials on point and prepares our taxes every year as well. She is such a "breath of fresh air" and we just love her to pieces. She is always there for us and ready to provide quality service." – LaTarsha Hendrix, owner of Kenny Kendall's Gourmet Popcorn.
In addition to serving their clients, Devine CPA & Co. also support Greater Lafayette businesses.
"We use and refer to a local payroll service, BBCS Payroll," Devine says. "We purchase our office supplies and furniture locally at Indoff Office Furniture, and we order lunch often from locally owned restaurants."
Through Greater Lafayette Commerce, Devine has expanded her support of locally owned companies and encourages her clients to do the same.
"That is one of my favorite reasons to be involved with GLC and their events and newsletters is to learn about how to support the local small business community better," Devine says.
Growing business
Christina's right-hand in the firm is Anna Roehl, their lead Staff Accountant who started at Devine CPA in July of 2019. Anna grew up in Lafayette, graduated with her Master's in Accounting, and is currently studying to become a CPA.
"Anna has stepped into her role and grown well with our firm. She serves as the main contact for the majority of our individual tax clients throughout the preparation process and many of our monthly clients," Devine says. "She supports our mission well and is truly essential to our firm."
A potential client will be introduced to Devine CPA by Administrator Assistant, Brandi DeBoard, who joined the firm in Oct. 2020.
"She gets them the basic information they need to get started and helps keep us organized and provides great customer service," Devine says of the Carroll High School graduate.
This summer, Devine CPA added another CPA in Rachel Kim. She will assist Devine in high level accounting.
"We work with a lot of research businesses out of Purdue University, and across the U.S.," Devine says. "I have specialized knowledge in how to do accounting for federal research grants, and I am going to be passing this knowledge to Rachel to grow this part of our firm."
Devine discovered the need for this service when she began working with new businesses based in Purdue Research Park in 2015.
"I love that we are able to fill this gap and help our small research businesses here locally be better able to succeed," Devine says.
Yes, we also do taxes
Well, there is one area where Devine CPA & Co. are like typical certified public accountants. The firm does have individual clients for whom it provides annual tax preparation. 
But Devine CPA & Co. doesn't limit its services to finding ways to provide their clients the highest refund possible. The tagline and something the team strives to live by is "Making Taxes Devine." 
"We strive to make recommendations to them to better provide value for our services and make things easier on the clients to understand," Devine says. "Simple things like teaching them about college saving accounts, tax credits they could easily be taking advantage of, or even adjusting their withholding to better plan for the following year."
Location and contact information
Location: 2060 Sagamore Parkway W., Suite Q, West Lafayette, Indiana 47906 (west of The Bryant in the Market West Shopping Center)
Website: westlafayettecpa.com